Sedibeng TVET College Application 2023-2024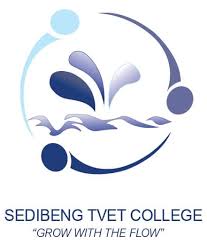 Sedibeng TVET College Application 2023-2024
INTRODUCTIONS TO SEDIBENG TVET COLLEGE.
The objective of Sedibeng TVET College is to be the foremost TVET College in terms of offering inexpensive training and education.
Within the TVET sector, their aim is to have its staff produce qualifications that fulfill the expectations and demands of commerce, industry, and the community.
Bursaries from the NSFAS are given to deserving students from low-income families.
APPLICATION DEADLINE
Application is open from the 5th of July to the 15th of July'
PROGRAMS OFFERED AT SEDIBENG TVET COLLEGE.
National Certificate Vocational
Faculty of Engineering   
Civil Engineering & Building Construction
Electrical Infrastructure Construction
Engineering & Related Design
Process Plant Operation
Faculty of Creative & Social Services
Hospitality
Travel & Tourism
Faculty of Business
Information Technology
Marketing
Finance
Business Management
Nated Courses
Faculty of Engineering      
Civil Engineering
Electrical Engineering
Mechanical Engineering
Faculty of Creative & Social Services
Hospitality
Travel & Tourism
Faculty of Business
Human Resource Management
Marketing Management
Financial Management
Management Assistant
ELIGIBILITY REQUIREMENTS
Make sure you have the following requirements before applying
Latest school results and results from any other educational institution
ID of student
The ID of parents or guardian
Passport for international students
A working cell number
A unique email address
HOW TO APPLY
Application process of sedibeng tvet college
Stage 1

: Course Selection

Stage 2

: Upload your ID and credentials in jpg or png format (You must have the documents available in electronic format on this device).If you are chosen, you will be needed to bring Certified Copies to the college.

Stage 3

: Capture your Biographical Data

Stage 4

: Email, ID number, and cell phone number verification.For authentication, the system does not use a password.Your ID number, email address, and telephone number are used to verify your identity.

Stage 5:

A confirmation email will be sent to you with all the registration information.
NOTE: You need to complete ALL 5 STAGES before your application will be considered.
The following is a step-by-step guide for submitting an online application to Sedibeng TVET College.
Make it a point to read all we've written.
Stage 1

: Acquire your application structure at the school's Campus. Ensure you apply inside the application cycle to stay away from your application being dismissed.

Stage 2:

Fill in the structure with all vital archive that is expected of you to help your application.

Stage 3

: Remember that you'll need an email address to complete the form, so if you don't have one, you'll need to create one.
If you don't have an email address, click here to get one.
Also, when filling out the forms, make sure to provide a valid cell phone number, as the school will contact you if you are accepted.

Stage 4

: A complete application should include an authenticated copy of your ID and an authenticated copy of your most recent school results, as previously stated.
Sedibeng TVET College Contact Details
Address: 33 Voortrekker Street
Vereeniging
1930
Tel: 016 455 6500
Fax: 016 422 0746
Online Support Call Center (During Office Hours)
016 004 0407 option 5
THE LISTED BELOW ARE TVET COLLEGS IN SOUTH AFRICA
EASTERN CAPE
Buffalo City TVET College Application
Eastcape Midlands TVET College Application
Ingwe TVET College Application
King Hintsa TVET College Application
King Sabata Dalindyebo TVET College Application
Lovedale TVET College Application
Port Elizabeth TVET College Application
FREE STATE
Flavius Mareka TVET College Application
Goldfields TVET College Application
Maluti TVET College Application
Motheo TVET College Application
GAUTENG
Central Johannesburg TVET College Application
Ekurhuleni West TVET College Application
Sedibeng TVET College Application
South West Gauteng TVET College Application
Tshwane North TVET College Application
Tshwane South TVET College Application
Western TVET College Application
KWAZULU-NATAL
Coastal TVET College Application
Elangeni TVET College Application
Esayidi TVET College Application
Majuba TVET College Application
Mnambithi TVET College Application
Mthashana TVET College Application
Thekwini TVET College Application
Uzmfolozi TVET College Application
Umgungundlovu TVET College Application
LIMPOPO
Capricorn TVET College Application
Lephalale TVET College Application
Letaba TVET College Application
Mopani South East TVET College Application
Sekhukhune TVET College Application
Vhembe TVET College Application
Waterberg TVET College Application
MPUMALANGA
Ehlanzeni TVET College Application
Gert Sibande TVET College Application
Nkangala TVET College Application
NORTHERN CAPE
Northern Cape Rural TVET College Application
Northern Cape Urban TVET College Application
NORTH WEST
ORBIT TVET College Application
Taletso TVET College Application
Vuselela TVET College Application
WESTERN CAPE
Boland TVET College Application
College of Cape Town for TVET Application
False Bay TVET College Application
Northlink TVET College Application
South Cape TVET College Application
West Coast TVET College Application
Click here for more  info on the college